In need of apps to support executive functions for clients, students or yourself?
Check out the apps scooped from : http://www.smartappsforspecialneeds.com/2013/12/why-cant-you-be-more-organized-10-apps.html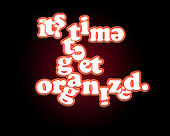 Carol Leynse Harpold's insight:
Katherine McCloskey scooped this resource of apps for organization. My favorities on this list include the 30/30, Toodledo apps. I also would include apps like Notability, Awesome Note and Alarmed!
More for your OT mTool Kit!
Carol
Scooped from OT mTool Kit Scoop it!