iPad Apps for Taking Audio Notes
Educators Technology.com provides a listing of apps for taking audio notes, check them out at the link below: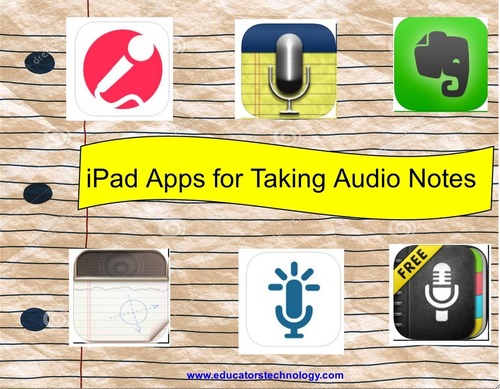 http://www.educatorstechnology.com/2014/01/5-excellent-ipad-apps-students-can-use.html
"There are times when taking a note in a written format is not a practical option. You might for instance be attending a lecture or a conference or you might simply prefer to listen to your recorded notes instead of reading them, in these cases apps such as the ones below are what you will use for audio note taking. While keeping the basic note taking features, all of these apps are fantastic for recording notes and adding audio to your notes. I invite you to check out the selection I have below and share with us what you thin about it."
Carol Leynse Harpold's insight:
Just in time! –  I will be working with an individual in the next few days that is interested in methods of note taking. Althought there are handheld tools such as the Livescribe Smartpen, handheld digital recorders and recording tools in computer based software as OneNote or Sonocent's Audio Note taker, the iPad, iPod or iPhone also becomes an options with audio note taking apps!
Carol
As Scooped on Scoop it!