High School iPad and iPhone Teacher Resources – A Google site dedicated to iOS apps geared to secondary and middle school students. Apps are categorized by topics including curriculum areas and elective subjects and app resources are also provided. It's nice to find resource lists for older students when most focus on the preschool and primary aged student.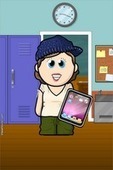 (As scooped on Scoop.it – OT mTool Kit )
"This site was created out of a desire to network in an inclusive way with all teachers who wanted to find iPad, iPhone, and iPod resources that can be useful at the secondary level.
Many on-line articles say things like "The 10 best reading apps", but many of the suggestions are aimed at primary and junior students. Hopefully the suggestions on this site will put intermediate and secondary teachers in touch with a few resources that apply more directly to them and their students…" Follow the link above to read more and peruse their resource lists.
Carol Leynse Harpold's insight:
A curated listing of app for middle and secondary students worth visiting.
Carol
See on sites.google.com