Educational Technology and Learning post, 6 Ways to Enhance Student Learning using iMovie provides ideas for using  this app for student learning.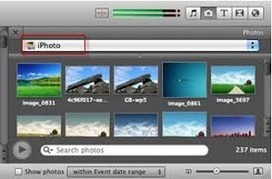 As scooped on  Scoop.it – OT mTool Kit
Carol Leynse Harpold's insight:
iMovie is an intuitive app for movie creating and editing. I recently used iMovie for video self modeling to combine and splice togther a video for a student. It was intuitive and easy to use – at least at a basic level.
Here are a few more ideas on using iMovie with your students. It also can be a great UDL method of expressing student knowledge or representing information to students using multimedia.
Carol
See on www.educatorstechnology.com